It's amazing how much can change in a year. The world today is not the same one that we knew at the start of 2020. During lockdown, businesses and everyday people adapted to changing circumstances by making use of technology. E-learning, e-commerce, and remote working all surged in popularity, and online social connections flourished. Today, more people than ever before are going online to look for and research products that they wish to buy, whether that purchase is made online or off.
Owners of physical stores are facing challenges they never would have imagined only a year ago, but they are also finding opportunities online, reaching new audiences. Even smaller local shops are finding their reach extending beyond the neighbourhoods they normally serve as those who want to buy in person are finding them online. There has never been a better time to merge your online and offline business presence.
Over the past several months, clients have been changing their buying habits, and their new behaviours are likely to remain. Consumers are planning out their shopping more carefully. Before leaving their home, they are researching whether the products they want are in stock, if the stores offer curbside pickup, and more. Global searches for items "in stock" have surged over 700% year over year while searches for services and products "available near me" have more than doubled.
Research from Google has revealed that consumers are now more flexible about whether they buy online or offline, with 75% of respondents now stating a willingness to use either method, compared to 65% prior to the pandemic. Despite this, research has shown that as much as 78% of purchases will still be made in person at physical stores by 2024.
Companies are seeking new growth by acting to meet customers where they are, regardless of whether that is online or off. Customers seeking to minimize personal contact are doing their research online, but may still be venturing out to the stores to make their purchase. For them, stores advertising curbside pickup offer greater appeal, making this an excellent advertising point.
One example of a business acting quickly to institute this is DIY retailer Castorama. They updated their Google My Business profile and began using Local Inventory ads. The result? Castorama saw their sales increase tenfold over a period of just 10 weeks.
Google now offers the option to "pickup later" in their Local Inventory ads, offering even greater flexibility. If items are not currently available, the customer will have the option to pick it up a few days later.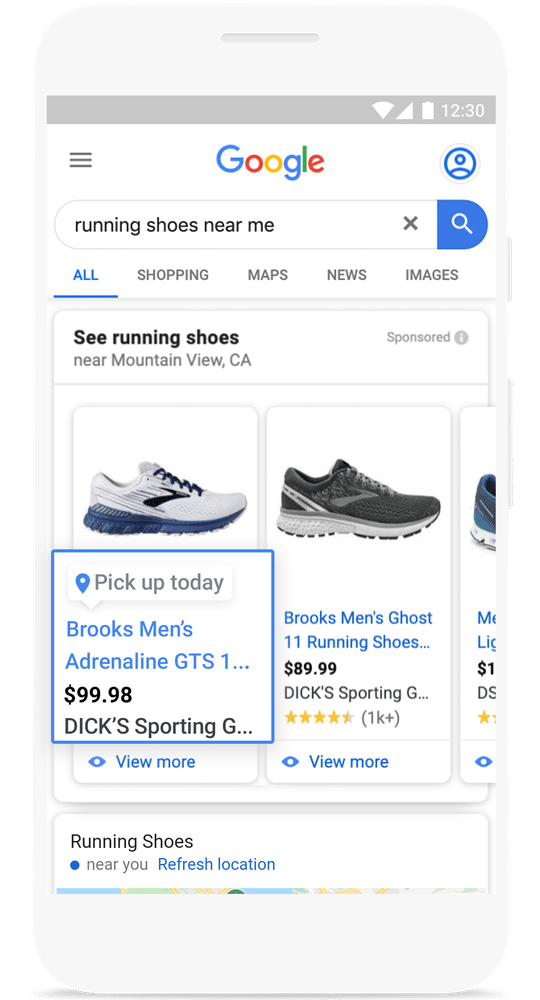 Google has also added service attributes to Local Campaigns. For example, restaurants can specify whether they are currently offering dine-in service or take-out. Retailers will have the ability to specify in-store shopping or curbside pickup. These options provide businesses with new tools to convey pertinent information to their customers.
Smart Bidding previously allowed online merchants to optimize for conversions or store visits, but now that has been extended to "store sales" for restaurants and retailers.
As we approach the end of 2020, the year's main takeaway is that businesses need to be able to adapt to changing circumstances and the challenges that arrive in their wake. It is difficult to predict what 2021 will bring for retailers, but one thing is certain: making use of available technology will help weather the storm and drive recovery once it passes.